Jeff McLaughlin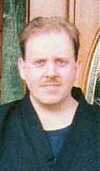 Primary Style: Kenpo Karate - 1st Dan
Secondary Styles: Tae Kwon-Do & Ju Jitsu
School: Instructor / Tiger Claw Self-Defense
Location: Springdale, Arkansas
Affiliations: International Network of Christian Martial Artists-(Founder)
International Karate Connection Association
Sasaki's Kenpo Karate
Training: Began studying in 1983
"I came to know the Lord at the very young age of 6 years old and have been involved in many Christian music ministries. I have been married since 1981 and have 3 children. I am blessed! I was raised in a Christian home & my wife and all 3 children are Christians."
---
Danny Young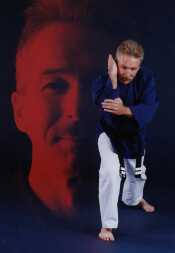 Primary Style: Silat/Kuntao
Secondary Styles: Tae Kwon Do, 2nd Dan, Jujitsu, Black belt, Pentjak Silat
School: Je-Du-Too
Location: Denver, CO
Affiliations: The United States Ju-Jitsu Federation
Training: Began on August 19, 1990
Website: Christian Martial Artist
"I came to know Jesus as my Lord and Savior when I was eleven years old. Over the years I have found God's love to be unfailing, and forever faithful. You can read my testimony on my website above.
Blessed are the peacemakers: for they shall be called the children of God.
Matthew 5:9
---
Sherry McGregor
Primary Style: Shorin-ryu karate 8th dan
Secondary Styles: Toide, iai-jutsu, jujutsu, KI, Aikido, Dai yoshin-ryu Kobudo, tai-chi, Goshin-jutsu.
School: Instructor / McGregor's Martial arts
Location: Orlando, FL
Affiliations: Juko-kai, Gospel Martial arts union, AAU, USKA
Training: I began when I was 7 years old
Website: www.christiankarate.com
"I gave my heart to the Lord at the age of 10 and shortly after felt called into the ministry. God has always used my martial arts to open doors for me to minister. I travel and speak for the Fellowship of Christian Athletes and have been a children's and youth pastor and have been to Haiti 7 times on missions trips."
---
Jim Stanton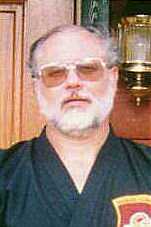 Primary Style: Northern Shao-lin Kung Fu Black belt,
Secondary Styles: Kempo Brown Belt, Kenpo (IKCA) Green Belt, Arnis
School Location: Instructor / Bryan, Texas
Affiliations: IKCA
Training: Started training at age 19, I am now 47
"I grew up in the church. I took Christ as my Lord and Savior at the age of 9. I grew and I am growing in my understanding of the Lordship of Jesus Christ. I have been a Minister of Youth and a Pastor. Now I am a Registered Nurse working in ICU and a deacon in the church."
---
Vicki Dees
Primary Style: Pasaryu Taekwondo 1st Dan (Black Belt)
Secondary Style: Kyokushinkai Karate - Orange Belt
School: Robert Blackstone's Karate Institute - Southaven, MS
Later became Shiloh Karate Institute - Olive Branch, MS
Kyokushinkai was taught in Hernando, MS
Training: started in November 1995 plus 6 months at age 7.
Website: My Website
"I became a Christian at the age of ten, after attending Living Waters Bible Camp, in Westby, WI. My parents were not active members of a church but allowed me to attend if I wanted to. As I got older, my parents became saved, but still never attended church. I then later on, got involved with the Christian Martial Arts. Just recently, after many changes with our school, and instuctor changes, God laid it on my heart to leave, and I did as He requested. I believe in standing up for Him, no matter what the fear of rejection may be, standing up for Him for what He wants, and not what I want, and I feel God has laid it on my heart as well to one day open up my own Christian based martial arts."